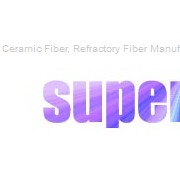 Super Refractory Ceramic Fiber Co., Ltd. manufactures soluble ceramic fiber, refractory ceramic fiber, and general ceramic fibers and three production techniques containing spun type, blown type and vacuum molding. We can produce all kinds of ceramic fiber products including temperature grades of 1050℃, 1260℃, 1400℃, 1500℃, 1600℃. Our refractory fibers products are widely used in heating equipment, industrial furnaces, insulating engineering and fire proofing works in the industries of steel, metallurgy, mechanical, petrol-chemical, ceramic, glass, electronic, oil and spaceflight etc.
On the base of traditional production line, we developed the DCS controlling system, PLC automatic controlling system, and light PLC automatic following system successfully, which are all on the top of the world. All of these make the equipments more exact and more perfect in production, so that the quality and capability of our products can reach higher bourn.
We can provide the most advanced economical designs for the lining of industrial furnace and pipe insulation. Our professional construction team can provide all kinds of complex construction service. alert's corporation spirits are "Leaded by science and technology, survived by quality and developed by innovation". Our service purpose: "mutual benefit, common development and eternal pursuit of customer satisfaction". Welcome to visit us and seek mutual development.
To learn more about China Super Refractory Ceramic Fiber products & Ceramic Fiber production line, please visit http://www.ceramicfibermanufacturer.com/